Jewelry Care Guide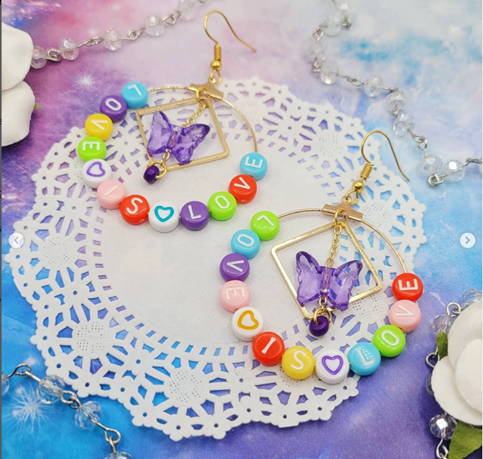 Polymer Clay Jewelry

Polymer clay is nontoxic, flexible, and durable, however please do not test durability by intentionally bending or using improperly. Please treat your pieces with the same care as we take when creating them for you. <3 With proper care, your earrings should last a long time.

To clean your polymer clay earrings, use a moist soft cloth to gently wipe the dirt and dust from the earrings. To remove makeup stains or small scuffs, you can use a small amount of rubbing alcohol on a soft cloth to gently wipe away the residue.

Apply perfume and lotions prior to wearing your jewelry.

Avoid submerging or showering in your earrings to prolong their life and keep them in good shape.

Do not sleep in your earrings to prevent damaging them.

To keep your earrings looking brand new, store them in a clean, dry place.
Resin Jewelry

Resin is sensitive to UV light and can cause yellowing or changes to the coloration if left in sunlight for extended periods of time. To prolong your beautiful earring's life keep away from direct sunlight. Additionally, do not expose your jewelry to high heat, as resin is a form of plastic and will melt/become bendy if it is exposed to extreme heat or direct sunlight.

Avoid submerging pieces in water. If you get them dirty use a mild dish soap and warm (not hot) water with a damp microfiber or silk cloth to gently remove the dirt.

Avoid contact with harsh chemicals, perfumes, oils, and lotions. 

Do not wear to bed or in the shower to prevent damaging your earrings and extend their lifespan.

Store your pieces out of direct sunlight in a cool, dry, and dark place like a jewelry box, bag (plastic or cloth), or individual box to avoid damaging them.

Resin is durable but not indestructible. Treat your jewelry with love and care to ensure a long life!
Gold Plated Jewelry

Gold Plated Jewelry Care

Apply perfume and other sprays prior to putting on your gold-plated jewelry.

Wait until your lotion has dried before wearing your jewelry to avoid exposure to the oils and other ingredients that may react with the metal.

After wearing, clean your plated jewelry with a cotton ball or soft cloth to remove any dust and dirt. Gently rubbing the surface of your gold plated jewelry using a soft jewelry cloth, helps restore shine. Do not use a polishing cloth as this will strip away the plating.

If your jewelry requires further cleaning you may do so with warm, soapy water. Soak it for a few minutes and dry with a soft cloth. Avoid jewelry cleaners, harsh chemicals, and antibacterial soaps which may have certain components that will make your gold plated jewelry fade.

To avoid scratches, wrap your jewelry in a soft cloth after cleaning or store it in a jewelry box separate from other types of jewelry. Small zip-locks or cloth bags work great.

Store like items together. Do not store gold plating and silver plating together. The different metals will cause each other to fade and/or turn colors. Store different metal colors/types like gold and rose gold separately to avoid damage. Store in a clean, dry area. 
Brass Charms

Brass Charm Care

It is natural for tarnishing to occur on brass charms. However, do not fret. These pieces can easily be restored to their previous luster by polishing with a polishing cloth, Brasso (which can be purchased from most hardware stores) or rubbing with ketchup.